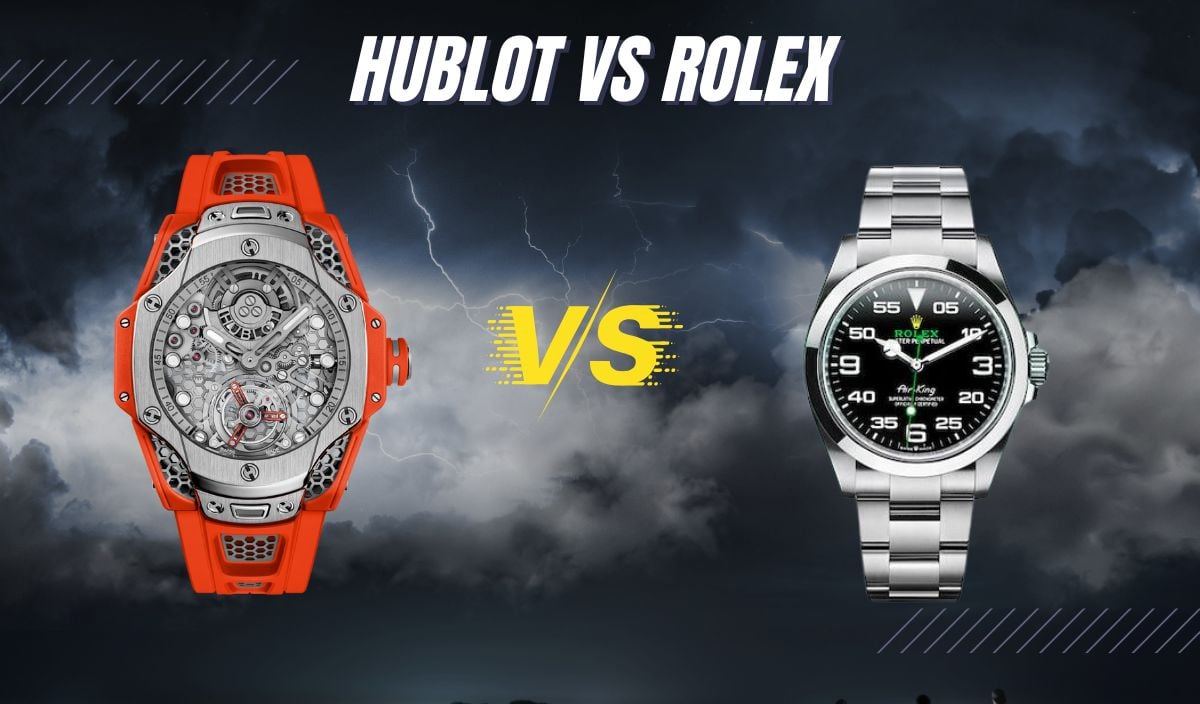 Confused between the two highly-reputed luxury watch brands? You've come to the right place! Today we are going to compare Rolex and Hublot on all the factors to help you pick the best luxury timepiece for yourself. We'll talk about their history, designs, materials, brand value and a lot more!
History
Rolex, as a brand, was founded in 1908 in London by Hans Wildorf and Alfred Davis, moving their operations to Switzerland after World War I. Since then, they have pioneered several features which have become standard in the watch industry and have become the most recognizable watch brand in the world.
Their success and brand recognition helped them survive the quartz crisis and has allowed them to stay independently owned since their creation. Hublot, by contrast, was only founded within the last 50 years, specifically in 1980.
Uniquely, the founder, Carlo Crocco, broke off from his family watchmaking business to focus on creating a watch brand that, originally, desired to innovate in the straps, and he successfully created the first natural rubber strap in the history of watchmaking.
In 2008, Hublot was acquired by the LVMH group, who currently owns them, and have since created a blitz marketing campaign to increase their brand presence, particularly, their sponsorships of some of the biggest sport stars in the world, including Kylian Mbappe and Novak Djokovic.
Styling Differences Between the Two Brands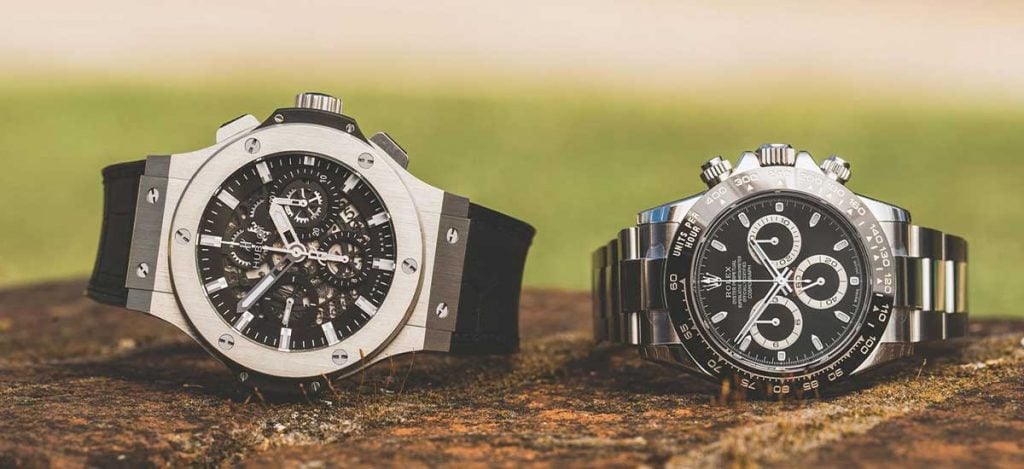 It is not hyperbole to say that Rolex has created the most iconic, and the most copied, watch styles in the history of watchmaking. The Submariner, the Daytona, the GMT Master II, the Day Date, the Datejust, and the Explorer I & II are some of the most recognizable watches in the world. The oyster bracelet is the most ubiquitous bracelet style in the industry, and the clasp is the most recognizable clasp in the industry.
And perhaps most importantly, their designs have been responsible for the steel sports watch now being the most common watch worn in the world. It is because their designs have become so well-known over the last 50 years that they rarely change them; a Submariner made 40 years ago looks remarkably similar to a Submariner made yesterday. More on this later.
Again, Hublot, by contrast, could not be more different from its much older competitor. Do you want to wear a watch that looks like no other brand on the market? Do you want people to notice what's on your wrist and be so impressed by the unique styling that they stop you to ask what watch you're wearing? Do you want to make watch snobs to judge you for daring to be different?
Then Hublot is the brand for you. Their flagship model, the Big Bang, while taking design inspiration from some of the more iconic timepieces of the past, has become entirely unique, and Hublot has had the freedom to make it in literally hundreds of iterations since its introduction in 2005.
A quick review of their official website reveals that the Big Bang can currently be purchased in over 180 different colors, configurations, sizes, etc. If you want a 44mm steel chronograph on a rubber bracelet with a tried and true ETA based movement, then reference 301.SX.130.RX is for you. However, if you'd prefer a 42mm titanium chronograph on a bracelet with a manufacture calibre and over 400 diamonds in the case, dial, and bracelet, then reference 451.NX.1170.NX.9804 is what you need.
Movements Used
Rolex manufactures all of their own movements, which are shared across their different models. These include the 3230 (found in the Oyster Perpetual and Air-King), the 3235 (found in the DateJust, Submariner, and the Yachtmaster, among others), the 3255 (found in the Day/Date), and the true GMT movement, the 3285, which is found in the GMT-Master II and the Explorer II.
They also manufacture the 4130, which is found in the Daytona, and perhaps the most impressive of all the movements, the 9001, which appears in the Sky-Dweller. These movements feature a parachrome hairspring, meaning they are less prone to wear over time and can withstand shocks much better. They also all feature a 72-hour power reserve and beat at 28,800 vph.
They are all certified as a "superlative chronometer", meaning the movements are regulated, after casing, to -2 to +2 seconds per day. Hublot, on the other hand, uses third party movements in a majority of their watches, whether it be quartz or ETA based movements that they've modified and/or regulated.
They do have their own manufacture calibres, launched in 2010 and named UNICO, which feature a chronograph complication and a 72-hour power reserve. This movement originally appeared in their Big Bang Ferrari models, among other. They released an updated version in 2018 called the UNICO 2, which now appears in several of their Big Bang models.
Hublot also manufactures a manual wind movement with a 14-day power reserve, which only appears in models costing around $100,000. Perhaps their most ostentatious creation, which is saying a lot for a brand like Hublot, is tourbillion movement for a particular model made for Ferrari that features 11 barrels and a 50-day power reserve, that requires a special tool (that looks like an impact gun) to wind. Disappointingly, Hublot does not have any COSC certified movements as of yet.
When purchasing an automatic watch, you, as the buyer, must also consider downstream servicing costs. Rolex movements are some of the most studied movements in the world, and while it is always preferred to have the movement serviced by the manufacturer, Rolex owners are fortunate enough that there are hundreds of experienced third-party watchmakers around the world that do a perfectly fine job of servicing a Rolex movement, and at much cheaper prices than sending the watch directly to Rolex.
The same can be said for Hublot in the pieces that use ETA or quartz movements. ETA movements are easy to service and easy to maintain, and are very robust.
Materials
Rolex is famous for their use of 904L stainless steel, a material that they create at their own metal foundry, and is used in all of their stainless steel models in the cases and bracelets. While not as scratch resistant as the 316L stainless steel that you'll find in a vast majority of other steel watches, it polishes up much nicer and is much more resistant to corrosion (specifically corrosion cause by saltwater).
Having handled many Rolexes and watches made of 316L, the 904L alloy really does make a difference in appearance. Rolexes just feel a bit more luxurious and shine a bit brighter. Rolex is also famous for their use of Everose Gold, which is a proprietary blend of 18 karat pink gold that is a combination of gold, copper, and platinum and gives the gold a reddish hue.
Hublot, on the other hand, has been truly innovative in their use of materials. Their tagline "Art of Fusion" demonstrates their mandate to try new things by combining different materials within the same watch to create a truly unique timepiece.
They were the first brand to introduce a rubber strap on a gold watch back in 1980. They have pioneered the creation of a metal called "Magic Gold", which they claim to be the first scratch resistant 18k gold ever made, no matter how active your lifestyle. They have created several different colors of ceramic cases, and have also developed completely transparent sapphire cases.
Other Things to Consider
When debating a purchase between these two brands, there are any things to consider. However, the most important is the message you're trying to send the world. If you are a traditionalist that likes to wear a recognizable timepiece from a brand responsible for some of the most enduring designs, then Rolex is for you.
As mentioned above, the designs created by Rolex 75 years ago have become some of the most copied on the planet. While not the first dive watch, the Submariner has influenced every dive watch made since its introduction, and because of this, Rolex has kept basically the same design language for 75 years.
This is a huge appeal to collectors, and is a reason why vintage pieces are so incredibly sought after. It is also why the brand gets a bit of stick among the watch collecting community. The "don't fix what isn't broken" way of designing watches has rubbed people the wrong way for some time now, as has their miniscule updates to their timepieces over the years.
Rolex knows that their timepieces have a reputation to uphold and they don't make any decisions that could risk that reputation. Hublot could literally not be more different. They price themselves on taking risks, on using unique materials in their watches, and in taking risks in their designs. If, above everything else, you want to be unique, then you will not a find brand more suited to you than Hublot.
The brand has faced a lot of criticism over the years, being accusing of stealing designs and taking the term "limited edition" too far, but sometimes that the price you pay for becoming successful in an industry which isn't receptive to newcomers and places such a premium on history. Regardless of your feelings about the brand, however, it is undeniable that Hublot has carved out a very successful niche for itself in the industry.
Rolex vs. Hublot: Popularity, Pricing & Resale Value
Popularity & Pricing: Rolex is the most popular watch brand in the world, and is perhaps the only brand that non-watch people would immediately recognize. It is because of this that demand and pricing at the lower end of a piece's range will always be relatively stable, especially for their steel sports models. It's extraordinarily unlikely that you will ever need to sell a Rolex for less than you originally paid for it.
Brand new from a Rolex authorized dealer, prices ranges from $5,800 for an Oyster Perpetual to nearly $15,000 for a steel variant of the Sky-Dweller. Obviously, prices increase rather steeply when you begin looking at precious metal variations.
It's the secondary market where things get a bit more interesting and is perhaps more indicative of the market for Rolex. While a GMT-Master II Batman on a Jubilee bracelet will cost you $10,700 from an authorized dealer, you are likely to pay over $18,000 for one on the used market. This is the case for a lot of their current models.
Even discontinued pieces, like the "Hulk" Submariner, which cost around $9,000 when new are selling for over $20,000 used. Love it or hate it, this is the price you pay for demand of Rolex, and this is entirely unique to this segment of the industry (i.e., stainless steel sports models in the $10,000-$15,000 price range).
Hublot, on the other hand, can't pretend to even compete with the popularity of Rolex as a brand. But you don't buy a Hublot hoping the average person will recognize the watch you're wearing. You buy a Hublot so that the average person asks what you're wearing. And Hublot, like nearly all brands not named Rolex, Vacherin Constantin or Patek Phillippe, is cheaper on the secondary market than buying brand new.
Hublot's most understated model, the Fusion, can be bought for $5,900 directly from Hublot but can be found much cheaper on the used market. This is the case for nearly all of their models. While often times when deciding to purchase a watch, we go in with the intent of the purchase lasting us for the rest of our life but consideration must be made as to resale value, especially when shopping in this segment of the market.
Life happens, and sometimes the need arises to offload a piece or two to fund other expenses. And when comparing these two brands, it's really not a discussion. As mentioned above, it's very unlikely that you will ever sell a Rolex for less than you paid for it, and that's normally the case whether or not you sell it a year after you bought it or a decade.
The ability to maintain its value is one of the strongest attractions to Rolex. And, unfortunately, like most watch brands not named Rolex or Patek Philippe, this is not the case for Hublot.
Rolex Submariner vs. Hublot Big Bang
As we wrap up, it's worth comparing two of the most recognizable models from each brand. As mentioned previously, the Submariner is one of the most iconic timepieces in the history of watches.
Rolex's current lineup consists of 8 different variations, ranging from a stainless steel, no-date, version with a black dial and black bezel that retails for approximately $8,950 (reference 124060) to an all 18 carat white gold variant with a date complication, black dial and blue bezel that retails for approximately $40,000 (reference 126619LB).
All variants are 41mm in diameter, are water resistant to 300 meters, have a 120-click unidirectional bezel, and feature a "superlative chronometer" movement with a 70-hour power reserve. And, of course, every model has the instantly recognizable design language of a Rolex Submariner.
As mentioned above, the Hublot Big Bang is currently offered in over 140 different iterations. For purposes of this comparison, we will focus on their base model (reference 301.SX.130.RX), which retails for approximately $12,900.
It's housed in a case that is 44mm in diameter, water resistant to 100 meters and contains a chronograph complication based on the ETA Valjoux 7753 with a central seconds chronograph hand, 3 sub-registers, and a 41 hour power reserve. It's mounted on Hublot's famous rubber strap with a deployant clasp, and comes with a style completely distinct to Hublot.
Final Decision
When deciding which watch gets to grace your wrist for either the next couple of years, or for the rest of your life, the most important thing is to think about what you will like looking at. It takes time to figure out which piece you will want to look at over and over and over again. Both brands have their strengths and weaknesses, which we have attempted to lay out for you here.
Spending several thousand on a timepiece is not a decision to be taken lightly. Do you want to wear a timepiece that is easy to read and is backed by a hundred years of watchmaking history? Then Rolex is your brand. Do you want a brand that is known for its innovation in the industry and is a bit more modern in their design language and use of materials?
Then Hublot is the brand for you. And, just remember, at the end of the day, if the piece you originally purchased is not the piece for you, you can always sell and begin your watch shopping journey again.